Auswahl Steuerzone / Lieferland
Payment types
We offer different payment options:

(in data entry during the payment process, a secure SSL connection is used)

1 TRANSFER
 


This is the normal bank transfer, you need to take after order confirmation itself, either by form at your local bank or online, of course. Do not forget to indicate the order number on the bank transfer, since only then can be uniquely associated with your order. Depending on your bank, it takes about 2 to 3 days (from abroad even longer) until the money arrives at our bank and so that payment can be posted. For transfers from abroad possibly further costs of your bank for you.

2. PAYPAL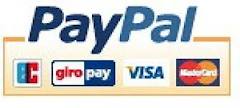 If you have a PayPal account, you can use this online payment service.
Normally, you will be redirected after the ordering process to the PayPal website to complete your payment. Detailed information is available here: PayPal
 
3. Cash on delivery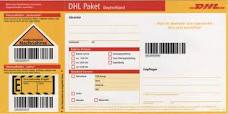 For COD additional cost of € 11.50 plus fall (no additional cost). Payment can not be offered for each country.
 
4. Payment in cash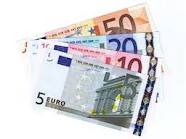 There are no additional costs for you.

5.Payment by reditkarte



If you choose credit card, the payment amount will be assigned to secupay AG, Goethestraße 6, 01896 Pulsnitz. The amount will be debited after completion of your order.
All data necessary for handling your payment will be submitted to secupay AG. For the purpose of assessing the risk of failure secupay AG might run a solvency check. Information regarding your previous payment history, based on mathematical-statistical analysis under inclusion of address data (scoring), will be obtained from the following service providers: infoscore Consumer Data GmbH, Rheinstraße 99, 76532 Baden-Baden and Creditreform Boniversum GmbH, Hellersbergstr. 11, 41460 Neuss. Further information about processing and storage of you data will be provided by secupay AG.
Payment by credit card will be charged a flat rate of 1.9% of value of goods.
After payment

:
After the

receipt of

your order

as soon as possible

,

no later than

the next business day

packed

and shipped

by us

.


You

get

this

"

shipped

"

on

the status message

to the email

address

notified

that you specify

.